From the moment they're born, babies start learning. The first lessons include recognizing parents' voices and faces. Children are naturally curious and anxious to coordinate their movements and touch everything they see. Although it might seem too early, parents should support the learning process from the first day and lead every interaction. Experts strongly suggest encouraging children to engage, respond to challenges, and explore the world around them. As a natural urge, playing is among the most appropriate forms of childhood education.
How do children practice learning?
With children, every day is an opportunity for an amazing adventure. Changing learning activities is extremely beneficial as it creates solid ground for practice and new experiences. Playing indoors and outdoors has an equally important influence on their progress. Accordingly, free activities same as structural and theme playing each have their purpose in sense of collecting physical and mental skills and knowledge.
For parents who want to create a pleasant learning environment, it's necessary to keep in mind that support and encouragement are crucial for children's normal development. The learning process can become even more exciting and interesting if parents teach children ways of approaching a particular challenge. This is equivalent to the effort adults make to learn from the best professional resume writers how to compose outstanding professional biography and win the dream job. The opportunity to collect knowledge from those who are more experienced and skillful makes the learning process not just comfortable but also meaningful and eventually successful.
However, children also need the freedom to find most answers on their own. More importantly, it's natural for them to make mistakes. Hits and misses are the major parts of the discovery process. Praising their efforts to find solutions is an excellent way to keep them focused and motivated to try again.
The scope of children's learning through playing
Depending on their age, children have different interests and capabilities to acquire new knowledge. Newborns, babies, toddlers, and preschoolers are at different points of development. Consequently, they need stimulants adjusted to their level of comprehension. Furthermore, each child learns differently. While some children prefer the visual method, others lean toward practical learning through various playing activities. The environment also has a huge influence on the process. While some children like collective learning others are more comfortable exploring in quiet and secluded conditions.
While playing with the family members, children can learn the following skills:
No matter how young a child is, it's never too early to start talking, responding, singing, and reading to them. This is the most efficient way to teach them basic principles of communication, and language flow. It's also a safe way to encourage them to develop their conversational skills.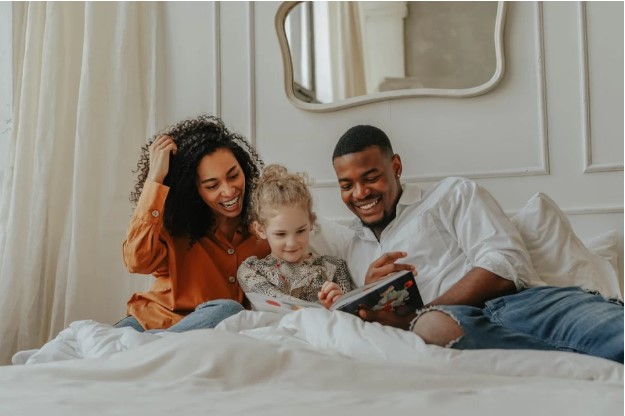 Children learn about self-awareness, love, and trust through their relationships with family members. As a result, they can recognize their own needs and obtain skills to fulfill them. The next level for them is to understand their feelings and thoughts and separate positive from negative ones. Also, it's an effective way to learn about different family roles.
For children, understanding their place within the collective and community is their first opportunity to learn about the outside world. Besides gaining knowledge about space and place they're also learning about their influence on other people, animals, and plants.
Music, books, drawing, and storytelling
As playing tools, they are among the most entertaining ways for children to get familiar with different forms of creativity. Children are naturally drawn to these models of artistry and inspired to explore them through their imagination. Singing, dancing, reading, making stories, and drawing with parents boost children's confidence, and enhance their motor and problem-solving skills.
Teaching children to obtain healthy habits is much easier if family members are positive role models. Presenting these habits as a form of playing is beneficial for them in more than one way. With this approach, children can accept healthy habits as standard behavior, not an occasional exception.
Playing with technology
With technology being everywhere, parents often neglect the importance of a proper introduction. Although an early start is without a doubt a good decision, parents have to apply certain rules to avoid the negative effects of consumption. Choosing age-appropriate online content is the first step, and limiting screen time is the second one. Also, parents' presence and involvement are crucial for safe use, especially with toddlers and preschoolers. It's not unusual to see parents using technology to keep children occupied and calm. However, making this solution always acceptable and frequent only creates new problems while leaving the old ones unsolved.